Ingredients:
1. Pig's feet: 2 whole pieces (chopped)
2. Canned plums: 4 pieces
3. Star anise: 3 pieces
4. Dried mandarin zest: 1/4 pieces
(soak in water)
5. Ripe vinegar: 200 ml
6. Light soy sauce: 1 tablespoon
7. Dark soy sauce: 2 tbsp.
8. Oyster sauce: 2 tablespoons
9.Garlic: 3 pieces (beat it)
10.Ginger: 3 pieces
11. Salt: 1 teaspoon
12. Shaoxing wine: 1 tablespoon
13. Cooking oil: 2 tablespoons
14.Drinking water: 600ml
Preparations and steps:
1. Rinse the pig's trotters, over high heat to blanch them for 10 minutes, pick them up, run water to rinse them and drain them;
2.Add 2 tablespoons of oil to the Wok/Pot, add ginger, garlic, star anise, candied plums, bring to high heat, add pig's trotters, Shaoxing wine, sauce light soy, dark soy sauce, oyster sauce, matured vinegar, quick sauté for 2 minutes;
3. Pour 300 ml of drinking water, quickly sauté, open the lid (high heat) cook for 5 minutes;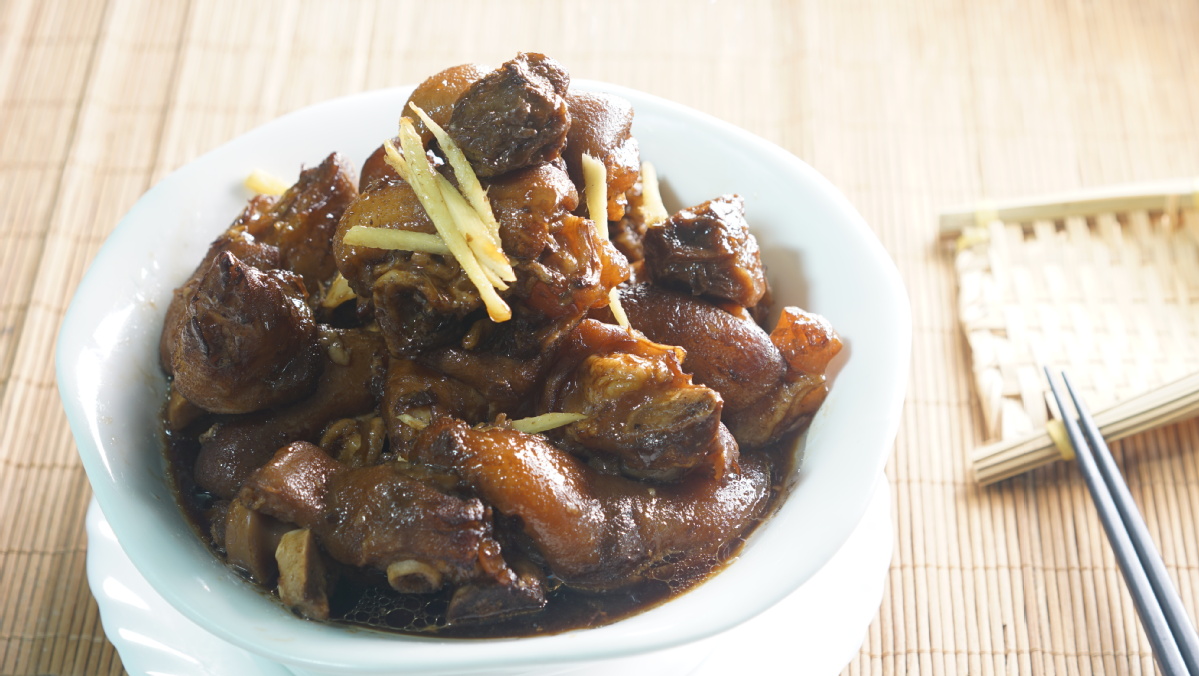 4. Then pour the rest of the drinking water (the water level should cover the pig's feet), stir, close the lid (high heat) to cook for 45 minutes, turn off the heat, simmer for 15 minutes;
5. After 15 minutes, open the lid and add salt, stir, close the lid, heat again over high heat, turn to medium heat when boiling, cook for another 20 minutes, turn off the heat;
6. Add ginger slices on top and serve! Enjoy!