Hot beets, raw plums, hot peppers and creamy ricotta – clashing ingredients make this salad memorable, says Francis Mallmann
Reviews and recommendations are unbiased and products are independently selected. Postmedia may earn an affiliate commission on purchases made through links on this page.
Content of the article
Our cookbook of the week is Green Fire by Argentinian chef Francis Mallmann. Over the next two days, we'll feature another recipe from the book and an interview with the author.
Content of the article
To try another recipe from the book, check out: Grilled Chauchas (Summer Beans) with Cucumber Vinaigrette.
As with Francis Mallmann's Pan-Seared Summer Beans with Cucumber Dressing, conflicting ingredients set this salad apart. The tartness of raw red plums clashes with the sweetness of hot, braised then crispy beets, the heat of sliced ​​chili peppers and the creamy freshness of fresh ricotta.
"I like that kind of really big contrast," says Mallmann. "You need contrasts when you eat."
Before Mallmann started cooking with fire, he didn't like beets very much. Whether boiled then mashed or braised and crispy on a plancha (hot plate) like they are here, the flames bring out their best.
Cook this: Chauchas – summer beans – a la plancha from Green Fire

Pitmaster Rodney Scott shares his secrets and the love

Sarit Packer and Itamar Srulovich on the beauty of fire cooking
Content of the article
"They pick up burns very well. They contain a lot of sugar, so it caramelizes and tastes delicious," says Mallmann.
"And you can achieve that tenderness, but there is always a grip in your mouth – something to bite into. It's not like mashed potatoes. Even if you cook them all the way through, there's always something left. There is a consistency that I like about them.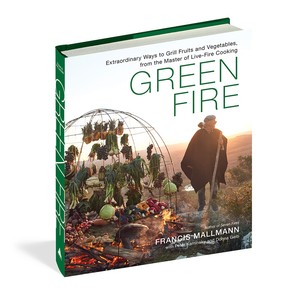 SALAD OF BEET AND BRAISED PLUMS
4 beets
About 4 cups (1 L) vegetable broth, water or a mixture
2 garlic cloves, peeled
6 sprigs of dill
2 tablespoons balsamic vinegar
Extra virgin olive oil
Coarse salt
4 ripe red plums
1 cup (227 g) fresh ricotta cheese
1 or 2 small hot peppers, halved, ribs and seeds removed, and thinly sliced
Breadcrumbs
Step 1
Heat the horno, or a household oven, to 375°F (190°C).
2nd step
Content of the article
Place the beets in a small, lidded saucepan or baking dish deeper than the height of the beets. Pour the broth up to about two-thirds up the sides of the beets. Add the garlic, half the dill, vinegar, olive oil and salt to taste. Put the lid on the pot or cover the dish tightly with aluminum foil and cook for about 1 hour, depending on the size of the beets, until tender throughout when pierced with a skewer.
Step 3
When the beets are cool enough to handle, cut them in half and brush them generously with olive oil. Meanwhile, with a sharp knife, slice the plums as thinly as possible, cutting around the pit. Tear the remaining dill into pieces, discarding the tough stems, and set aside.
Step 4
Prepare a fire on high heat and heat the plancha. If cooking indoors, heat a large cast iron griddle over high heat.
Content of the article
Step 5
Brush the plancha or hot plancha with olive oil. When the oil is simmering, add the beets cut side down. Cook until the bottom is crispy, about 2 minutes. Transfer to a wide dish.
Step 6
Arrange the plums around the beets on the platter. Add spoonfuls of ricotta, sliced ​​peppers, breadcrumbs and remaining dill.
Serves: 4
Recipe and image taken from Green Fire by Francis Mallmann. Copyright © 2022 Francis Mallmann. Photography © 2022 William Hereford. Published by Appetite by Random House®, a division of Penguin Random House Canada Limited. Reproduced by agreement with the publisher. All rights reserved.