BBrise at Amoy Street Food Center
Braised meat, when properly cooked, is quite enjoyable. It is the sum of several key factors: the braising juice, the texture of the meat and the accompaniments. Lu rou fan's hunt for a good bowl never stops, so when we heard about Braise in Amoy Street Food Centerwhich not only served a small menu of braised meat bowls but also fried braised pork belly, I knew we had to try it.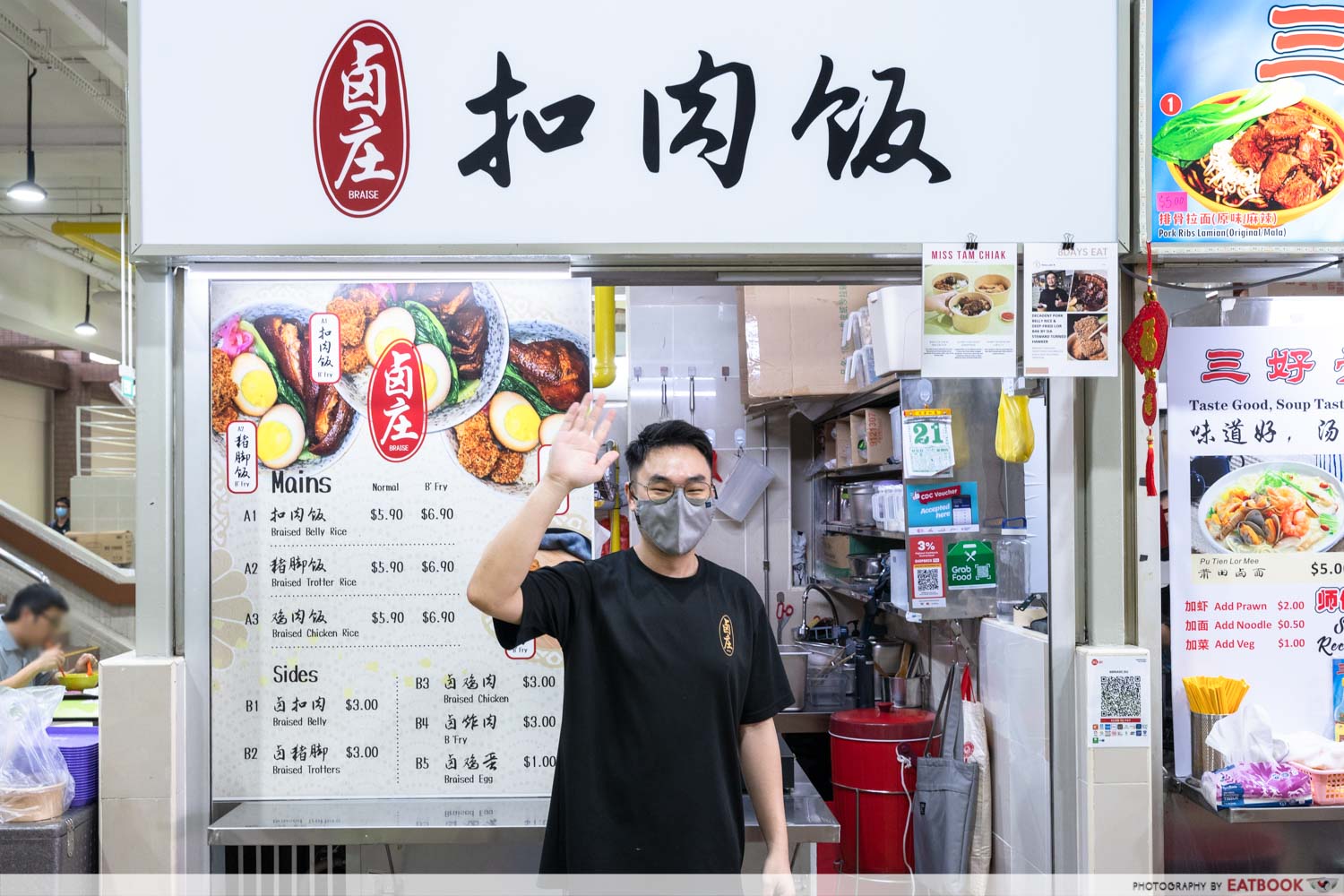 Formerly a home-based business, BBraise is run by former cabin crew Alvan Chew, for whom it is entirely a passion business. It's not a family recipe, as none of them cook – rather it's his own, based on the technique and interest he had discovered while helping at his friend's hawker stall after having left the airline industry.
Food at BBraise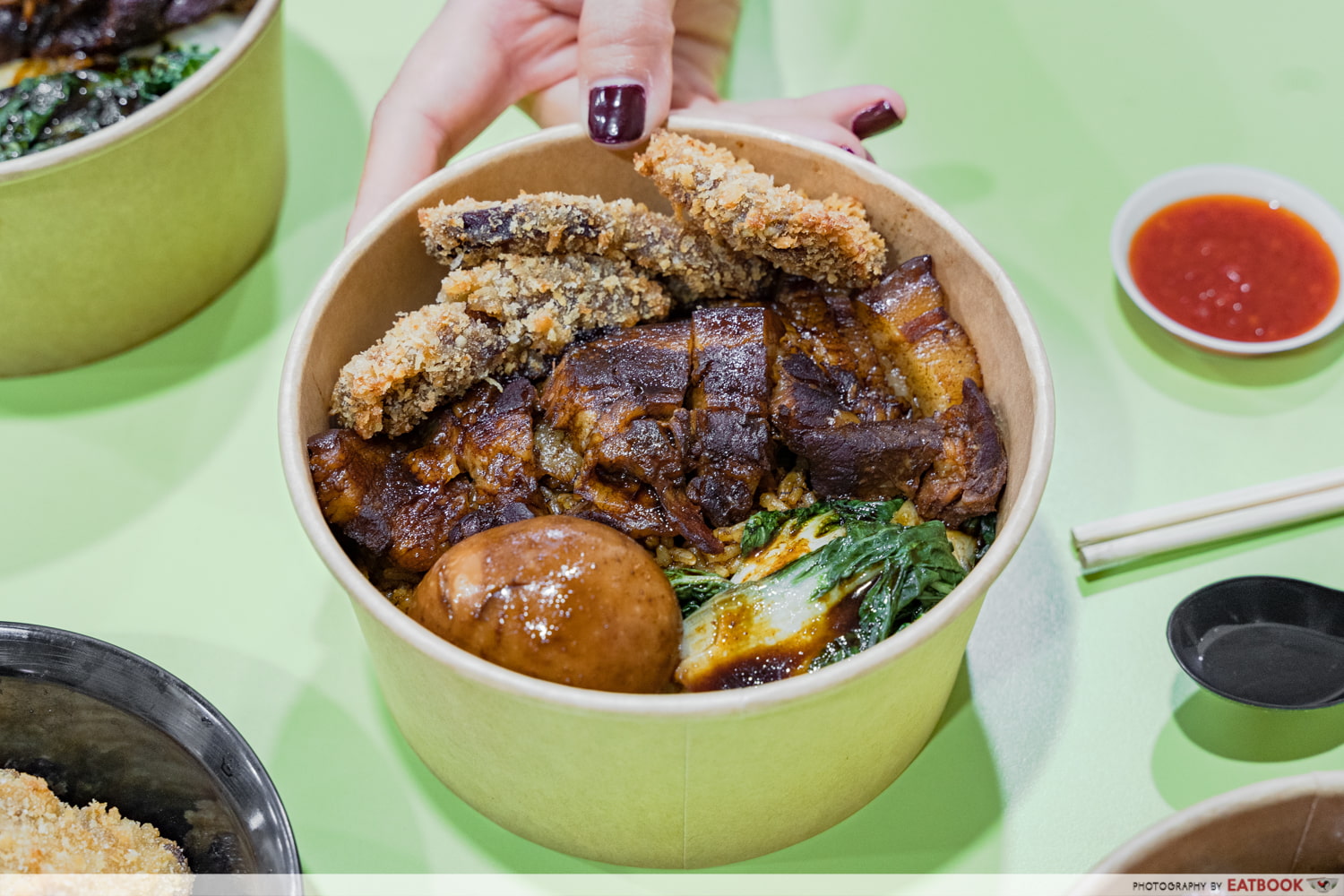 There are only three main dishes on the BBraise menu, all priced at $5 a bowl: Belly, Trotterand Chicken. Each comes with rice, braised meat and boiled vegetables. The optional modules, at the price of $1 a pop, include TauPok, Tau Kuaand Egg– all macerated in the same braising sauce.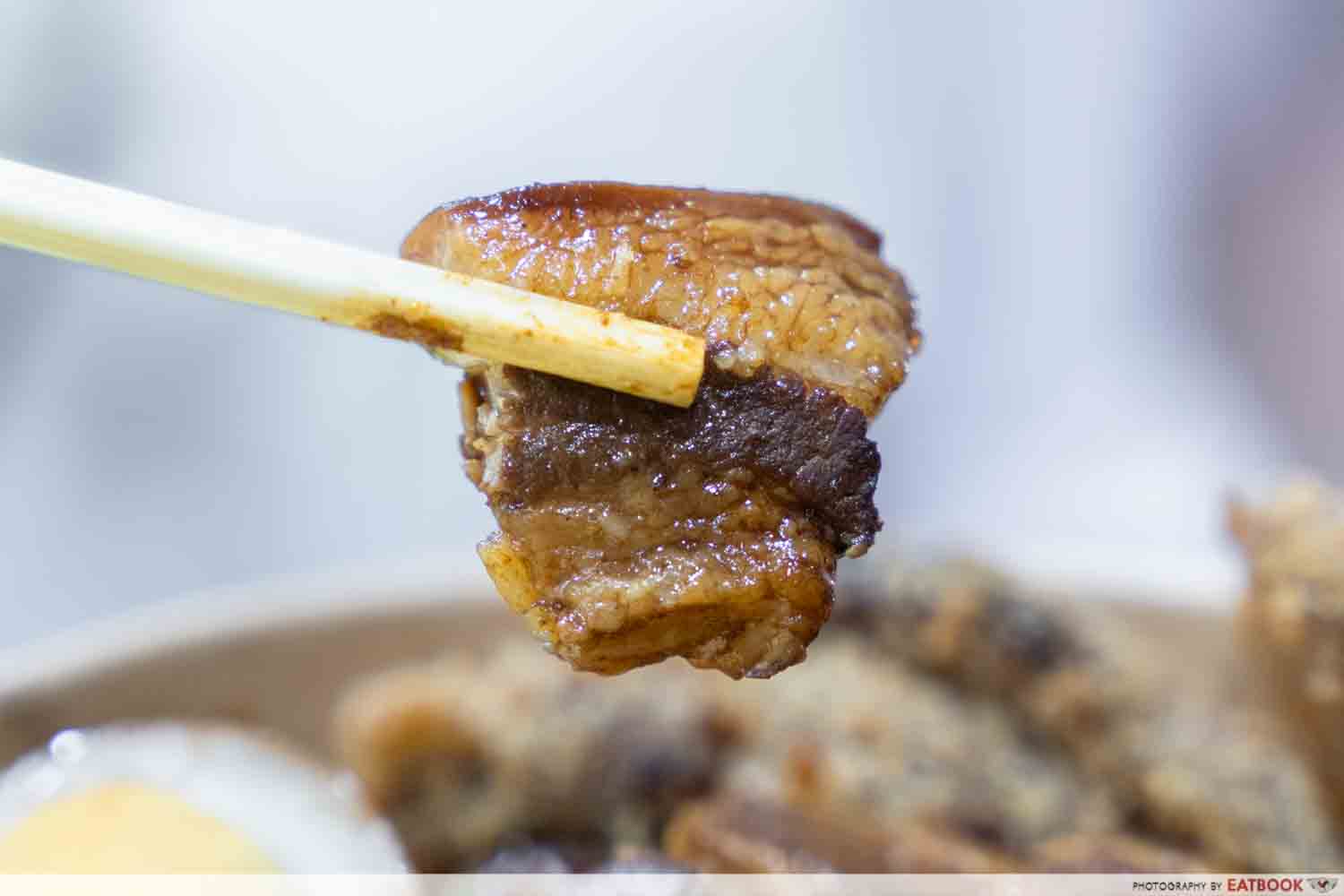 We started with the Belly, which was my favorite of the lot. Each meat gets a round of at least two hours in Alvan's lush braising sauce, and the pork belly with its alternating layers of mouth-melting fat has been made super tender.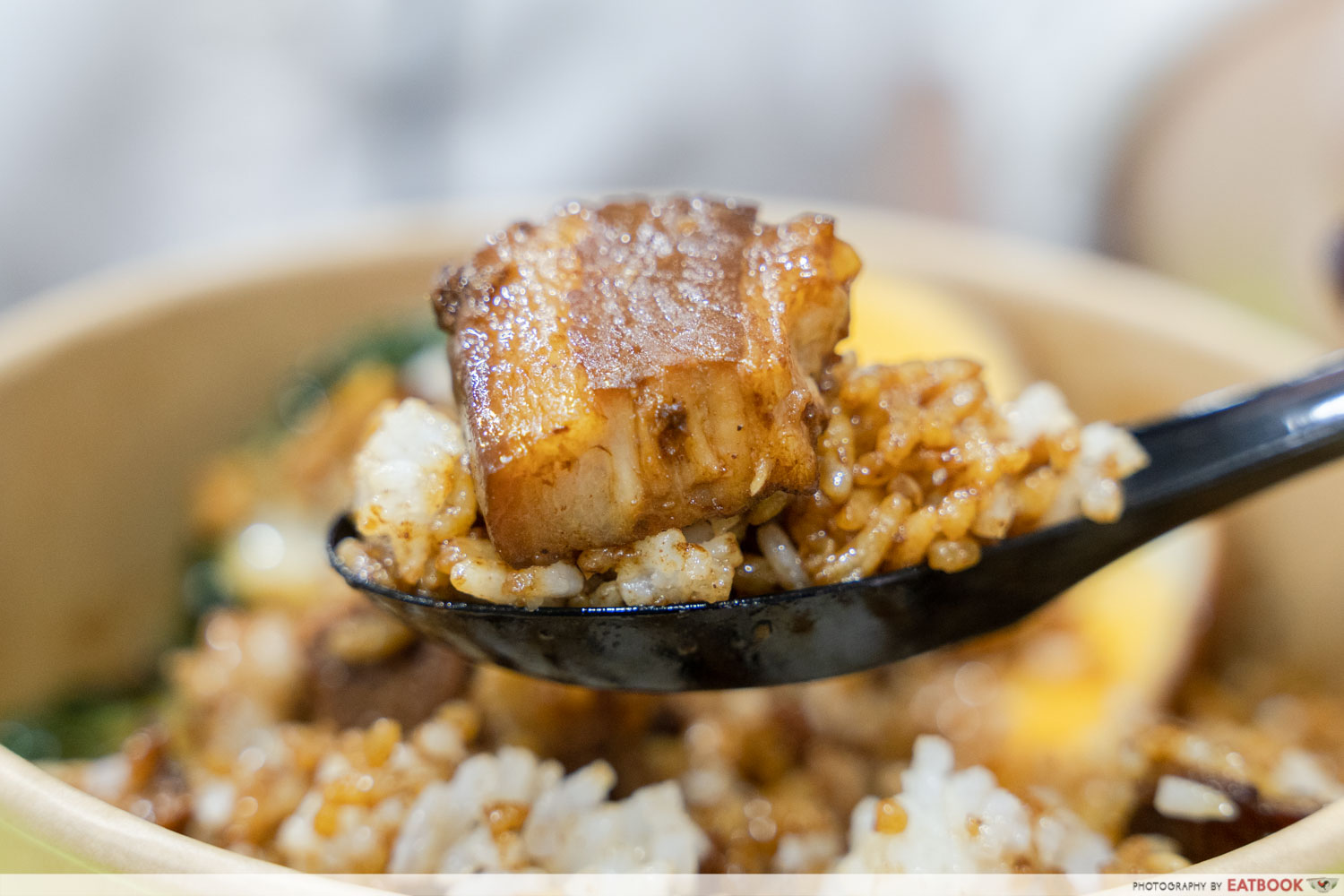 You get jasmine rice with the bowls here, but I would have preferred pearl rice instead. Despite this small setback, what I enjoyed was how the deeply flavorful meat and fat blended easily with the rice in my mouth. This, compared to the less pleasant experience of having to chew tough, stringy meat or solid, sticky fat.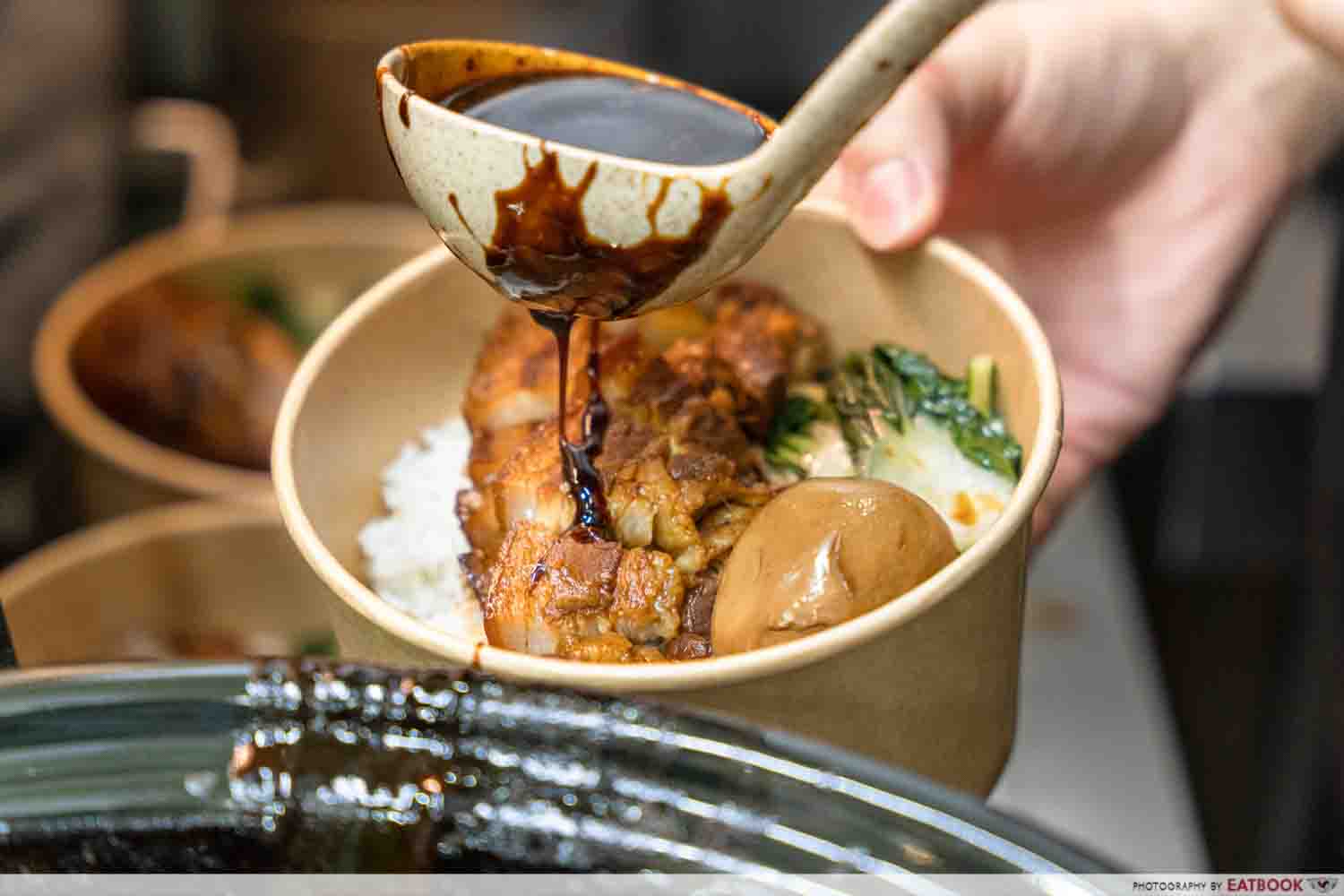 Positives also go to BBraise for being generous enough with the sauce that's poured over each bowl – there's enough to stain almost all of the rice in the bowl a dark brown, but not so much that the lumps at the bottom of the bowl swim in it.
Made with nearly 20 different herbs and spices, the dark brown sauce is kept at a constant simmer, with the master pot of sauce being enriched at the end of each day with the day's braising liquids. Unlike the lu rou zhup you find mostly elsewhere, the one from BBraise is quite slimy, which I liked for the way it drapes over the food.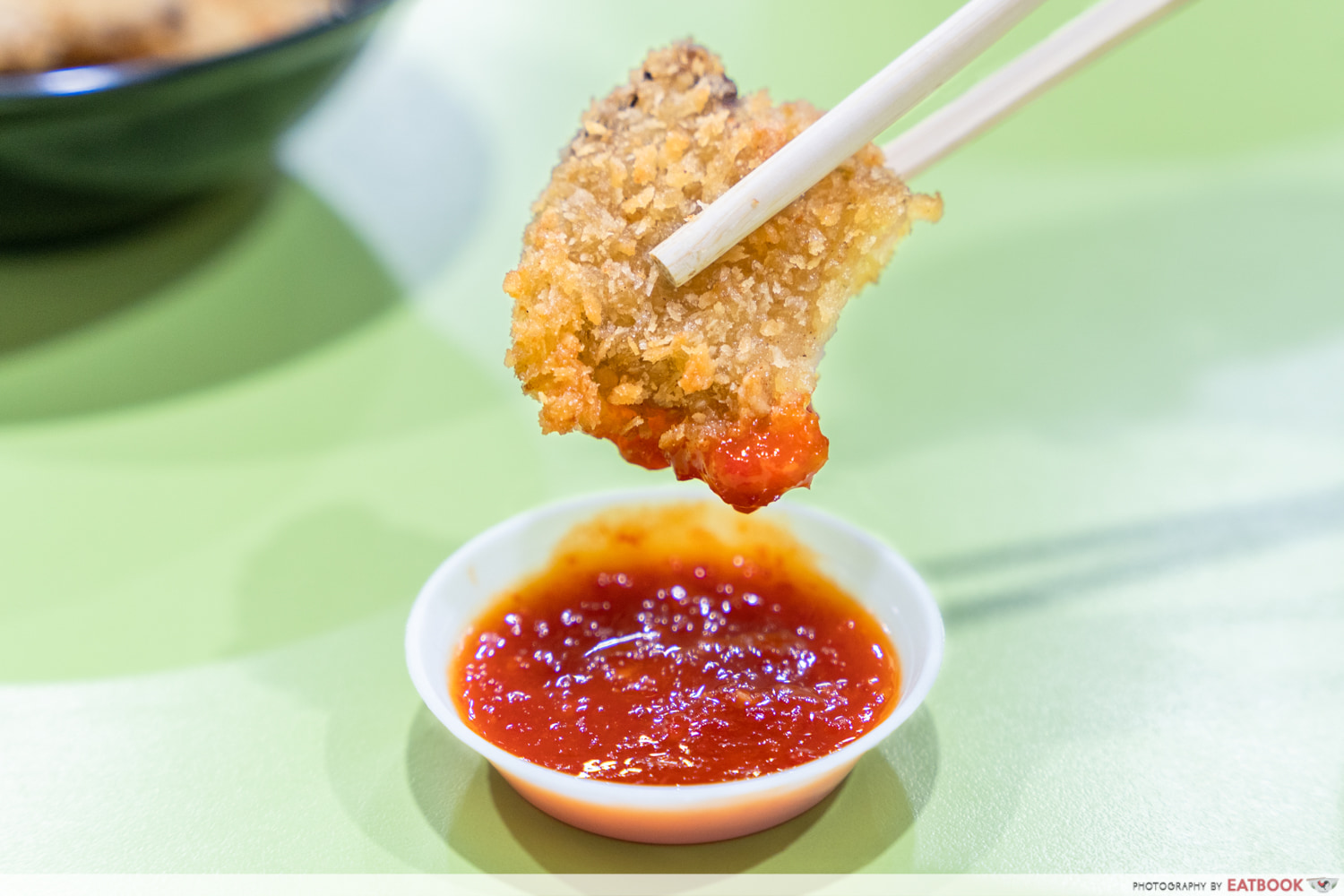 As much as I loved the braised pork belly, BBraise made it better by breading and frying it as a side dish. The Authentic B'FryAKA Braise-Fry, can be added to your bowl for $1or ordered as a side dish for $4.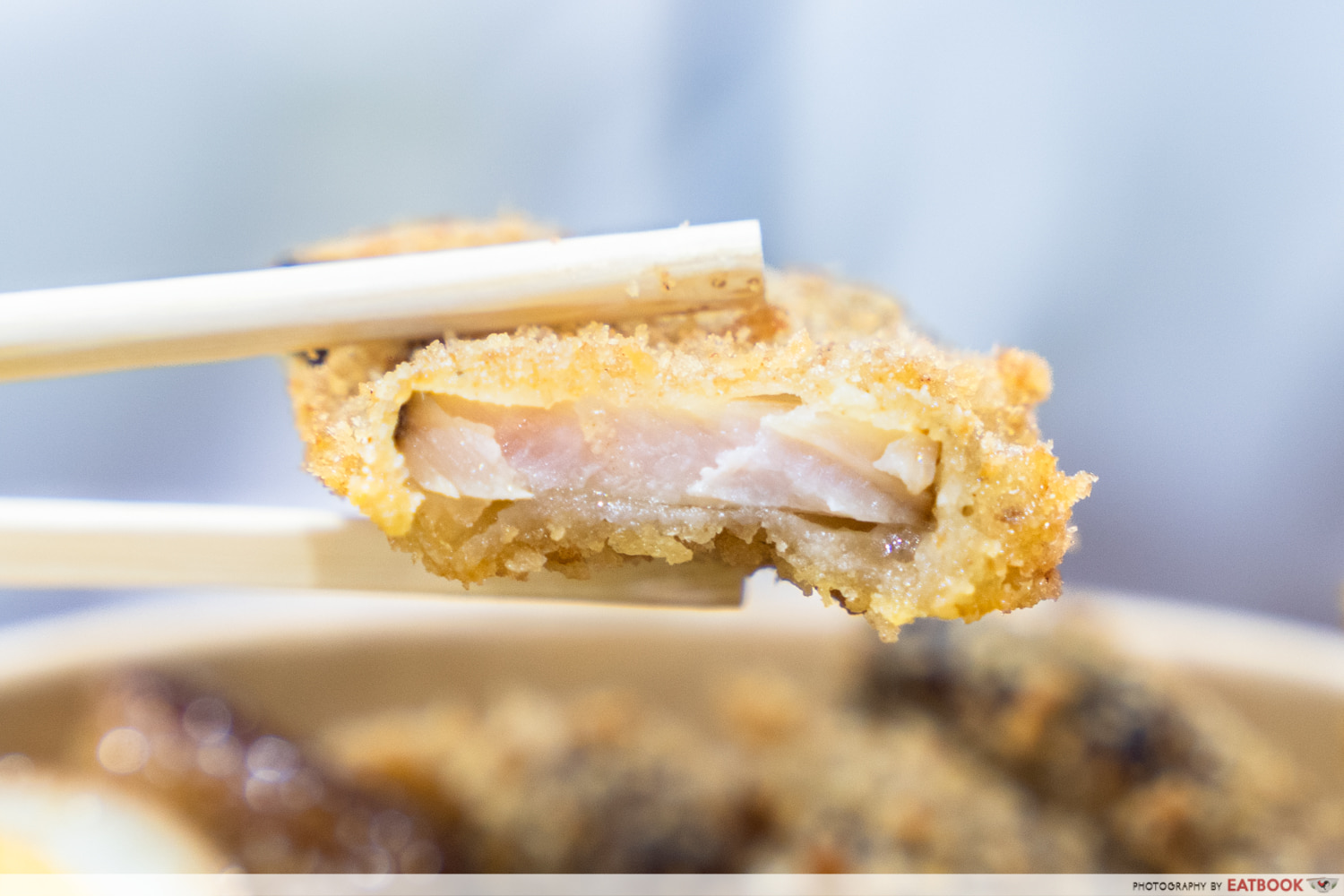 Braised pork belly on its own is flavorful and avoids being let down by a tasteless crumb by first being dipped in a batter including its own braising sauce, then in a breadcrumb mixture, before being deep-fried. It was great plus, with the added contrast in the textures of the melty meat against the light crust.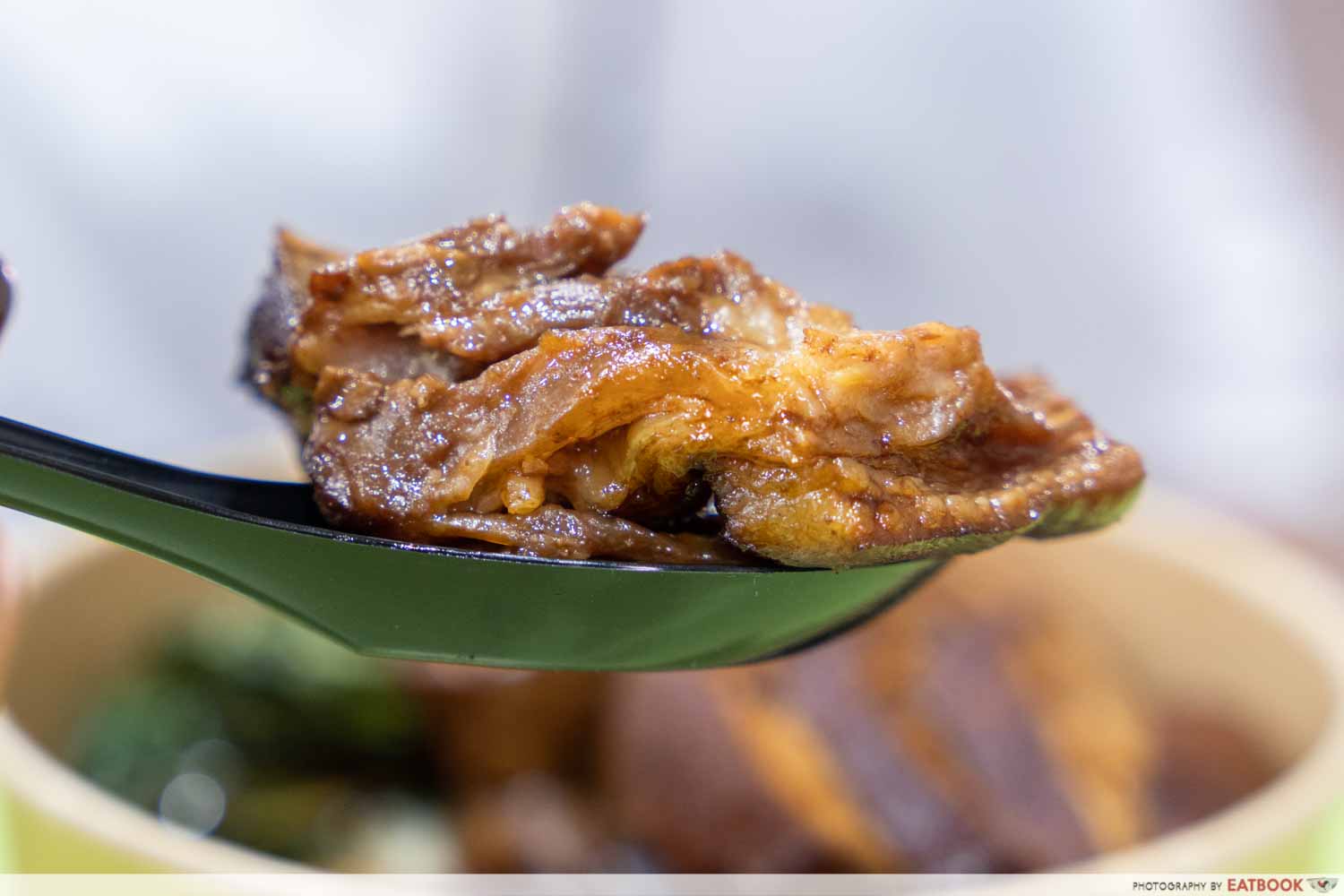 Like the pork belly, the trotter was well cooked, my table mates enjoying the gelatinous bits and light chewiness they got from the pork skin on it.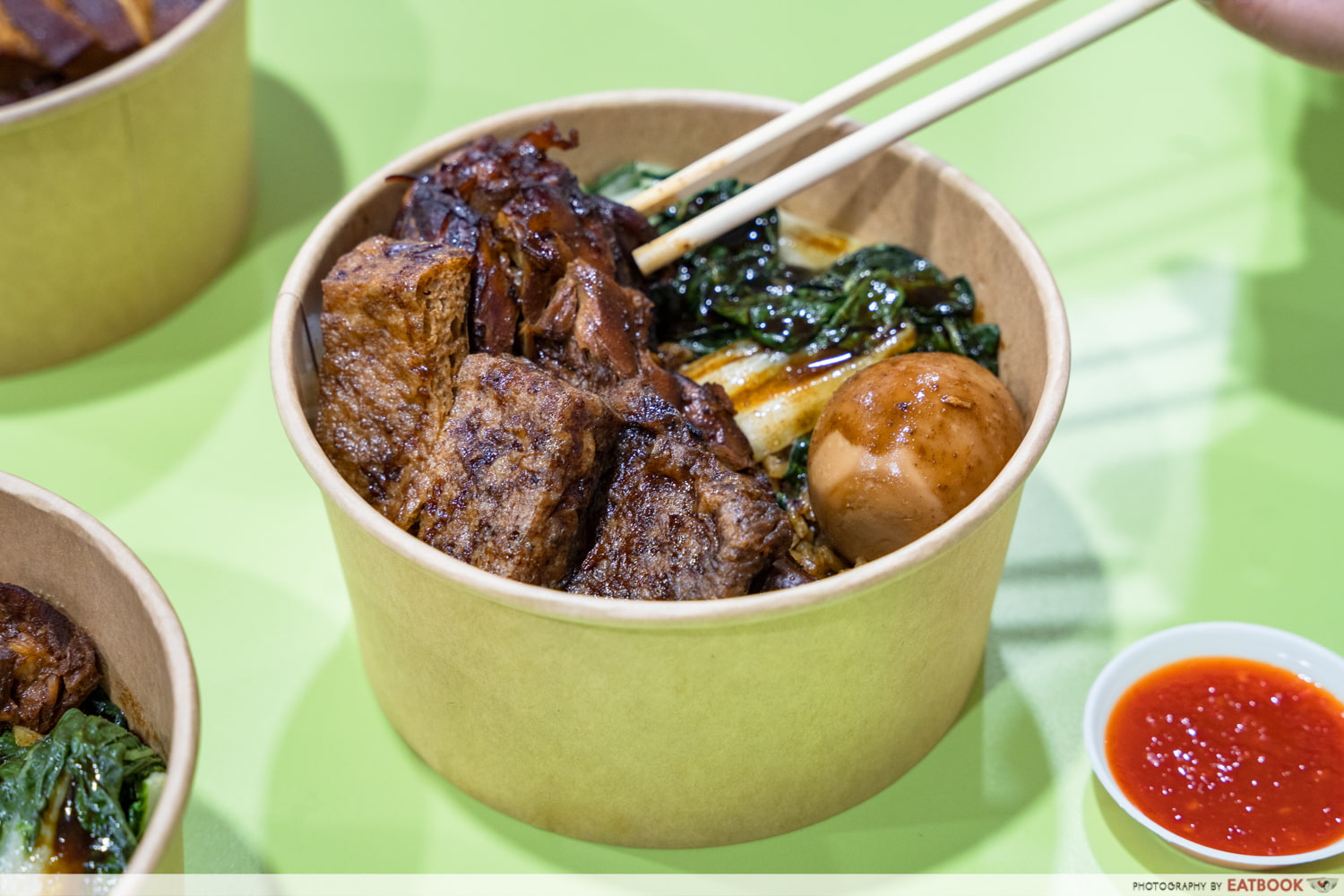 Not everyone likes pork belly and pork trotters, so the final menu item at BBraise is a braised whole chicken drumstick. Compared to the other two, this was our collective least favorite item on the menu.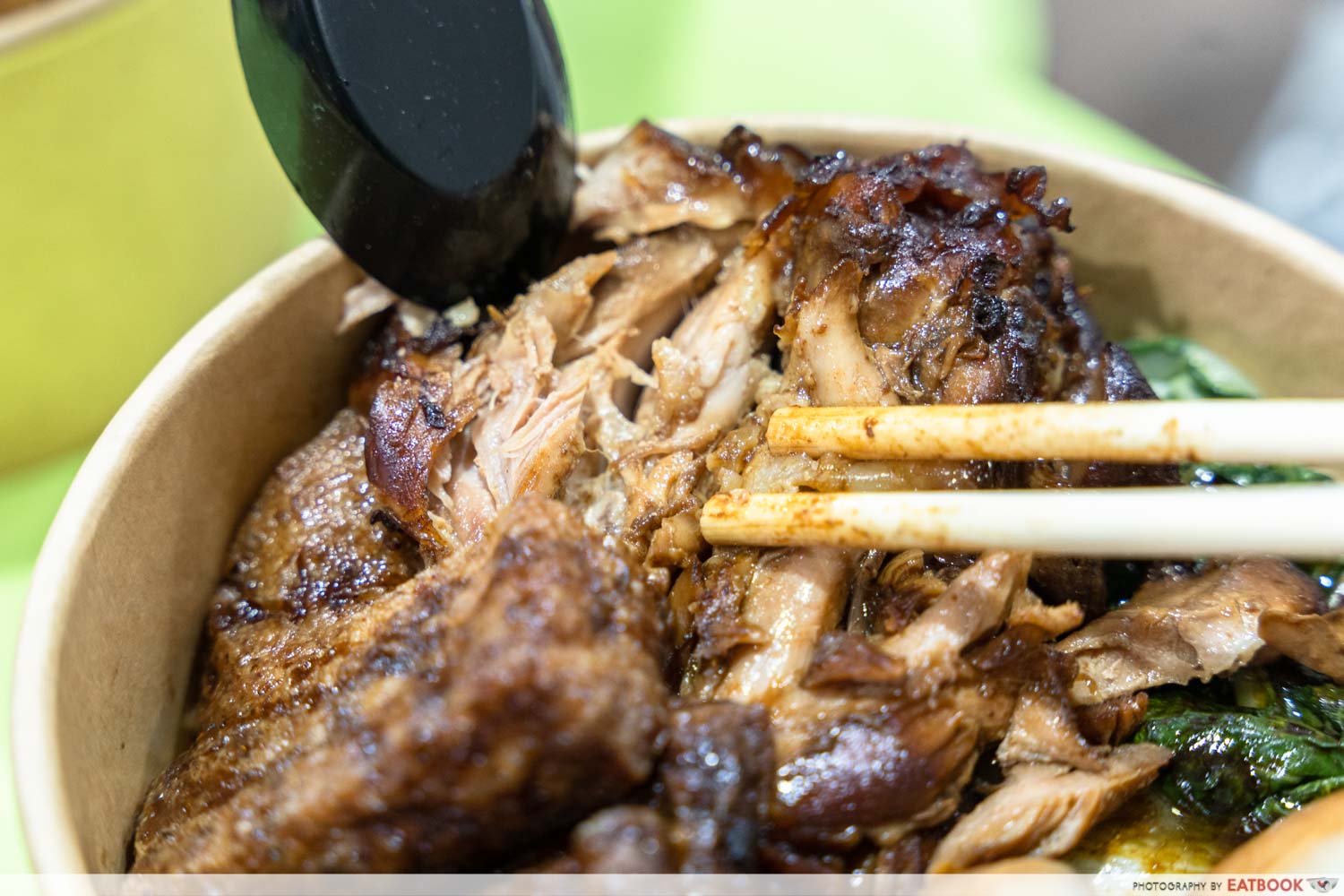 Don't get me wrong, the chicken was flavorful, as was the braised pork, but we found it less tender, lacking the meaty dark meat creaminess we had come to expect.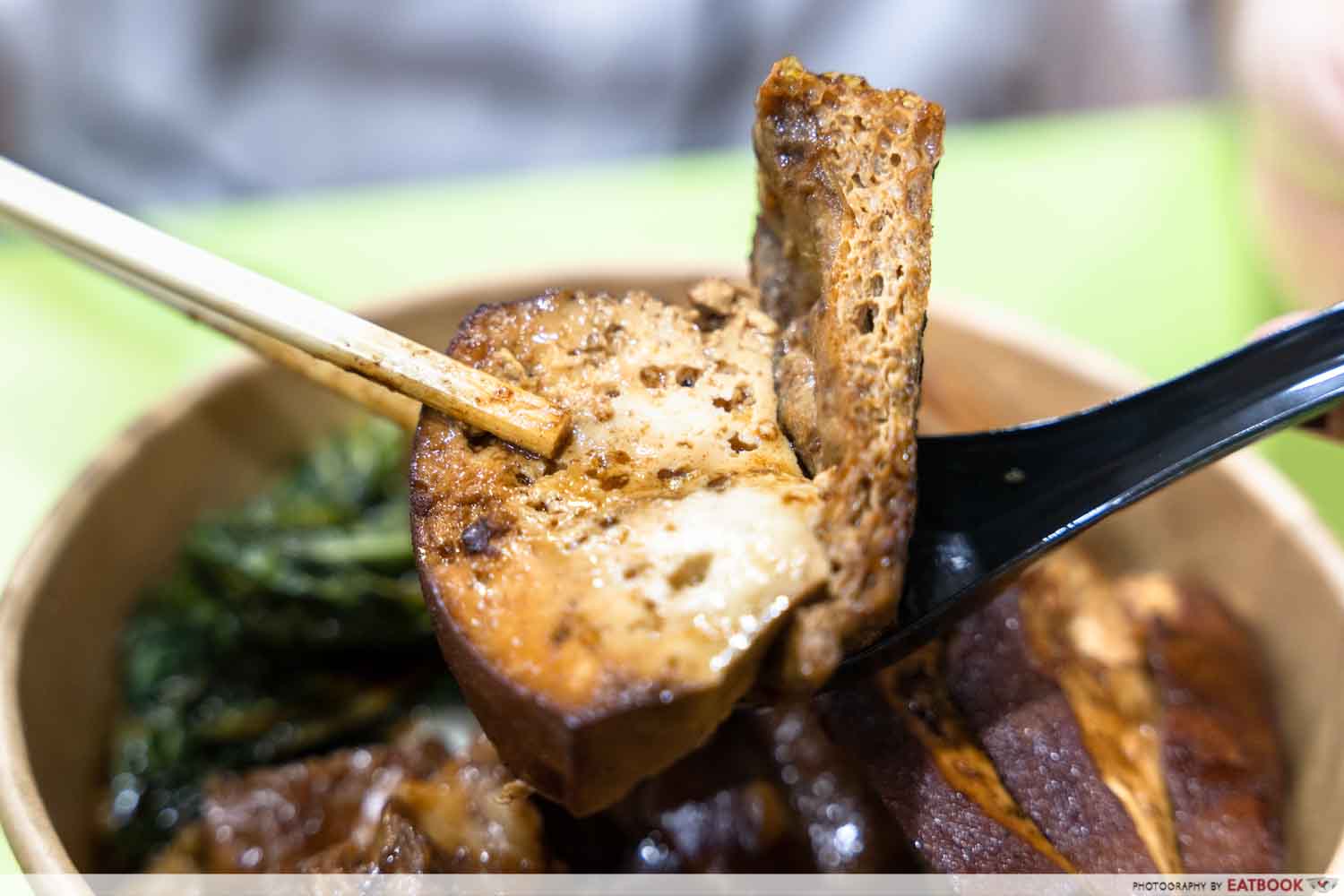 The braised tau kwa, tau pok and egg were equally tasty, although we would have preferred a soft center egg for its creamy yolk. Personally, I would also have liked the flavor of the meat and gravy to be complemented with canned vegetables, but Alvan has shared his choice of boiled vegetables to meet the needs of health-conscious office workers who want vegetables greens with their lunch.
Want Food's Taiwanese Delights Review: Cozy Cafe with Lu Rou Fan and Oyster Mee Sua Under $10 in Chinatown
Atmosphere at BBraise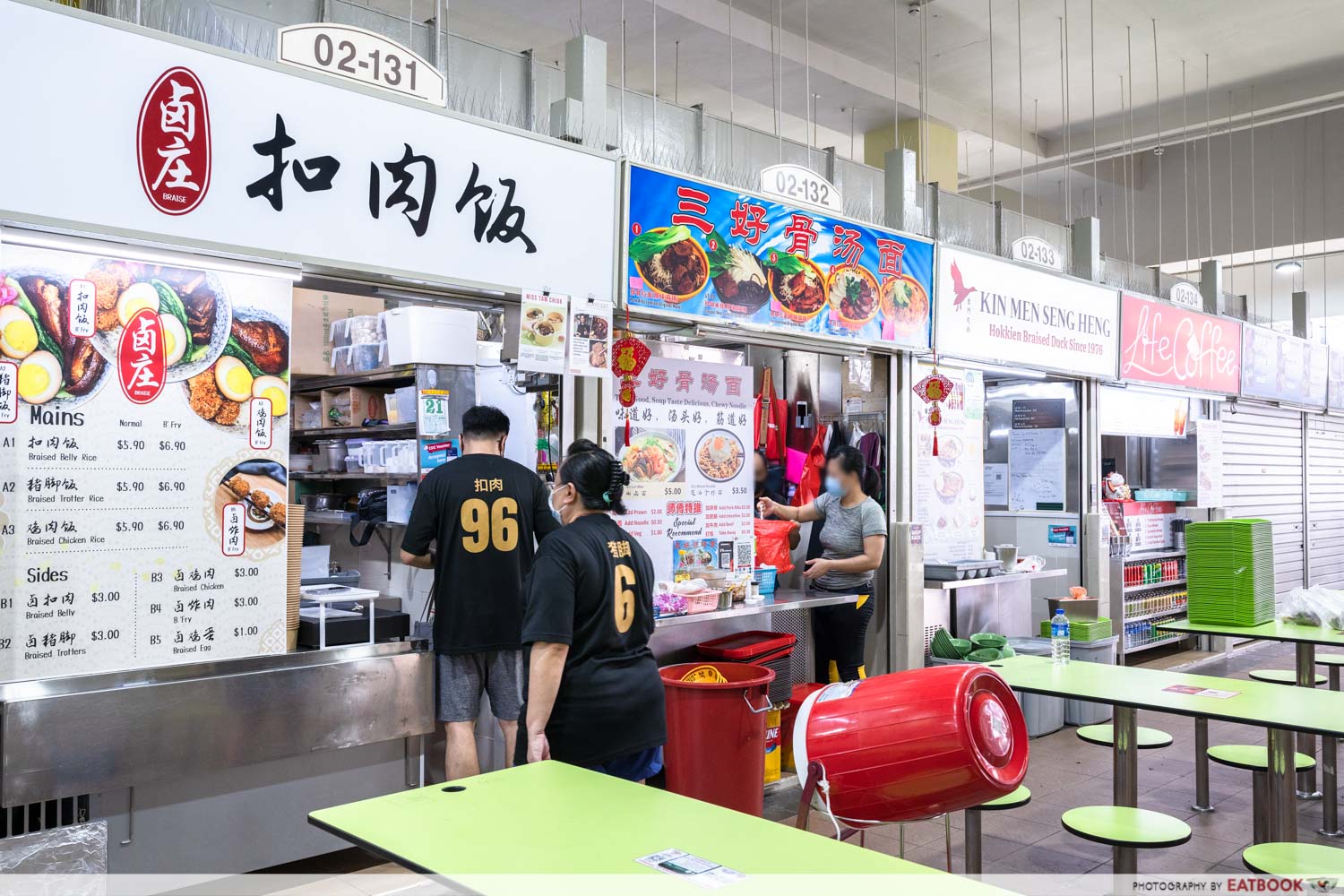 Amoy Street Food Center is a 400 meter or five minute walk from both MRT Tanjong Pagar Station and Telok Ayer MRT Station. The food center is extremely crowded at lunchtime, so it is advisable to visit it before, because BBraise closes at 2:30 p.m.
If you dine there, there's plenty of seating spread across the two floors of the brightly lit food center, with plenty of fans to make sure you don't sweat a storm. If the space looks refreshed, that's because it just reopened earlier this year after several months of renovations.
The verdict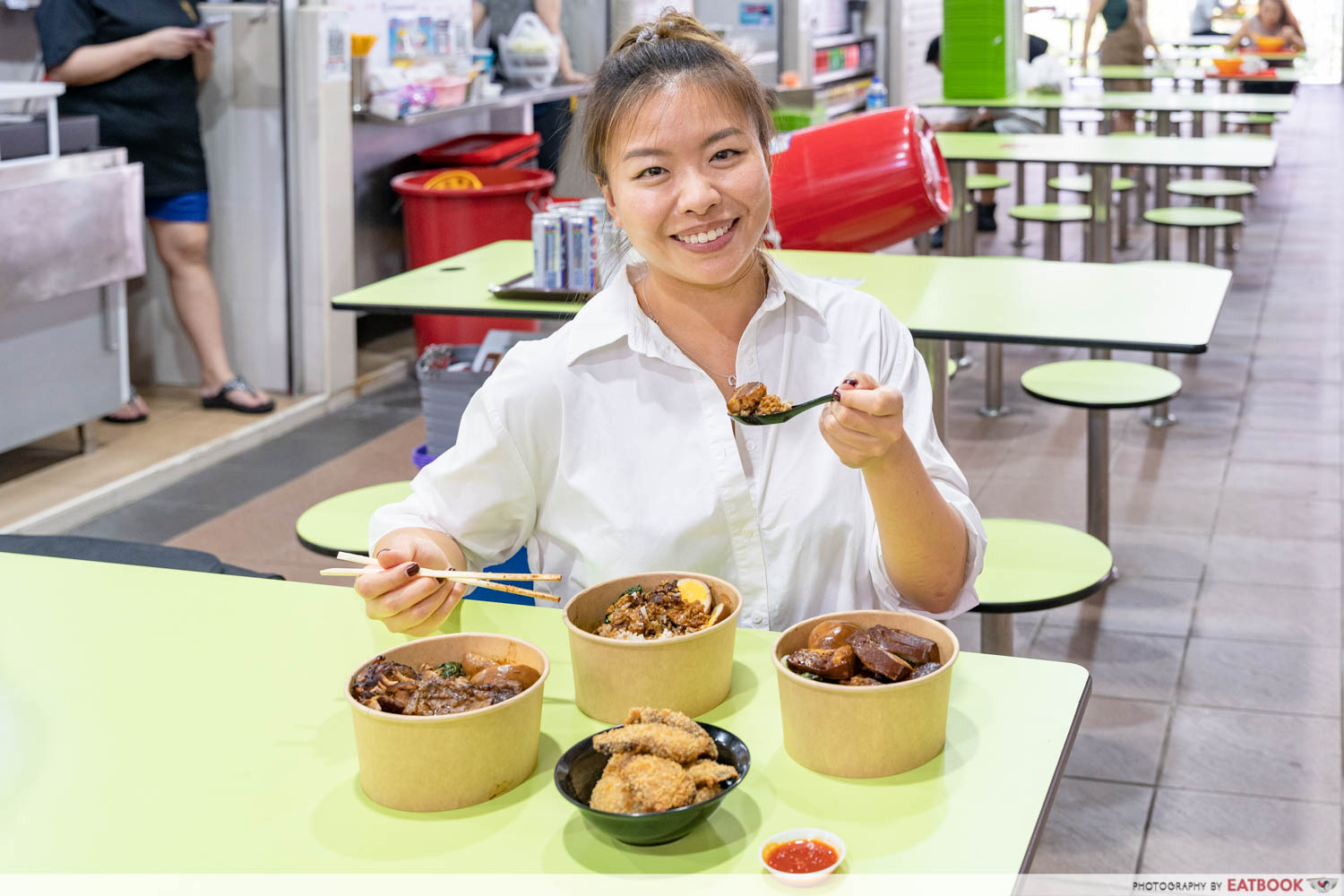 At $5 for a full bowl of carbs, protein, and greens—slightly more if you opt for the supplements—it's a pretty reasonable and satisfying lunch to grab in the CBD. With BBraise being fairly new to the scene, and Alvan still figuring out and fine-tuning the various menu items, expect changes to the lineup, with upgrades such as onsen eggs reportedly on the way. One thing that I hope won't change is the B'Fry: it's what my table mates and I agreed to keep us coming back for more.
Golden Mile Braise Lu Zhi Jia is frequently confused with BBraise and serves various cuts of braised pork, including pork cheek. If you're looking for Taiwanese lu rou, consider Want Food Taiwanese Delights instead.
Address: 7 Maxwell Road, #02-131, Amoy Street Food Centre, Singapore 069111
Opening hours: Sun-Fri 9am to 2.30pm
Tel: 8884 2796
Website
Bbraise is not a halal certified restaurant.
Braise Lu Zhi Jia Review: $3.50 Lu Rou Fan and Braised Pork Bowls at Golden Mile
Photos taken by Hui Hui Lau.
This is an independent review by Eatbook.sg
BBraise Review: $5 Braised Meat Rice and Fried Lu Rou at Amoy Street Market

BBraise Review: $5 Braised Meat Rice and Fried Lor Bak at Amoy Street Food Center – 7.5/10
7.5/10
Summary
Advantages
– Pork belly was tender
– Braising sauce was tasty
– B'Fry was unique and tasty
The inconvenients
– Limited opening hours
– The chicken drumstick was a bit dry
Recommended dishes: Authentic B'Fry ($1/$4), Belly ($5), Trotter ($5)
Opening hours: Sun-Fri 9 a.m. to 2:30 p.m.
Address: 7 Maxwell Road, #02-131, Amoy Street Food Centre, Singapore 069111